Top prospects sent down as Giants cut 21 players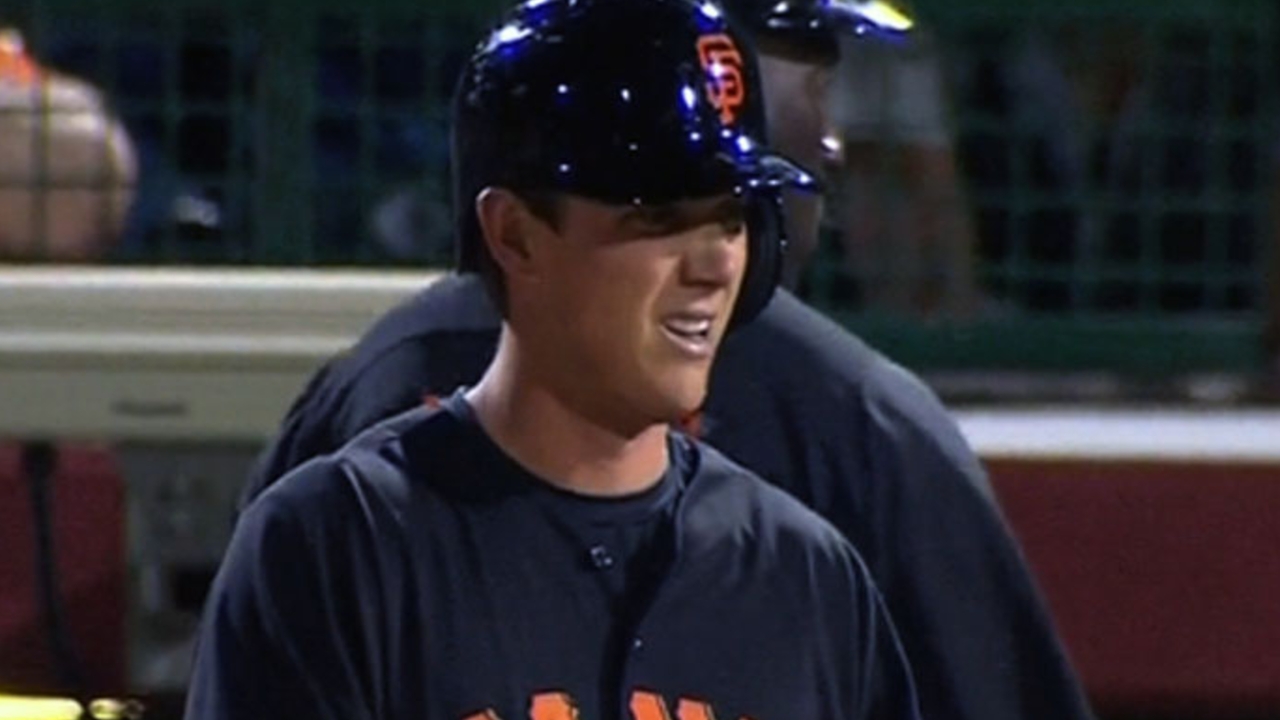 SCOTTSDALE, Ariz. -- Leading prospects such as outfielder Gary Brown, right-handers Heath Hembree and Chris Heston and left-hander Mike Kickham were among the horde of 21 players sent Friday by the Giants to Minor League camp.
The Giants want Brown, San Francisco's No. 1 selection in the 2010 First-Year Player Draft, to fit a leadoff hitter's profile more closely. He compiled a decent .481 slugging percentage in 14 Cactus League appearances. But since he drew no walks, his .259 on-base percentage matched his batting average. He also struck out eight times in 27 plate appearances.
"He needs to go back to the Minor Leagues and work on his approach," general manager Brian Sabean said of Brown, rated the organization's No. 2 prospect by MLB.com. "He obviously can play the outfield. But to be an everyday player, he has to swing the bat with more authority and he's still learning how to do that."
Hembree, the No. 5 prospect who's projected as a potential closer, posted a 9.00 ERA in five appearances, but that was skewed by a four-run inning against Cleveland on March 7.
"He's still learning how to pitch," Sabean said. "He has to use his secondary stuff and be more aggressive with his fastball -- throw strikes with it."
Heston and Kickham, the organization's eighth- and 12th-ranked prospects, respectively, showed hints of their talent but need more experience after pitching at Double-A Richmond last year. Sabean said that Kickham has been considered for a possible move to the bullpen, though no shift is imminent.
Joining Heston in the group optioned to Triple-A Fresno were right-handers Jake Dunning and Dan Otero, outfielders Roger Kieschnick and Juan Perez (No. 20 prospect), shortstop Ehire Adrianza (No. 14), infielder Nick Noonan and left-hander Sandy Rosario. Left-hander Edwin Escobar (No. 10) was optioned to Class A San Jose.
Reassigned to Minor League camp with Brown, Hembree and Kickham were first baseman Ricky Oropesa (No. 17), catcher Tyler LaTorre, infielders Adam Duvall and Brock Bond and right-handers Boof Bonser, Steve Edlefsen, Mitch Lively, Shane Loux and Brett Bochy, manager Bruce Bochy's son.
Chris Haft is a reporter for MLB.com. This story was not subject to the approval of Major League Baseball or its clubs.