Sanchez again sidelined with shoulder pain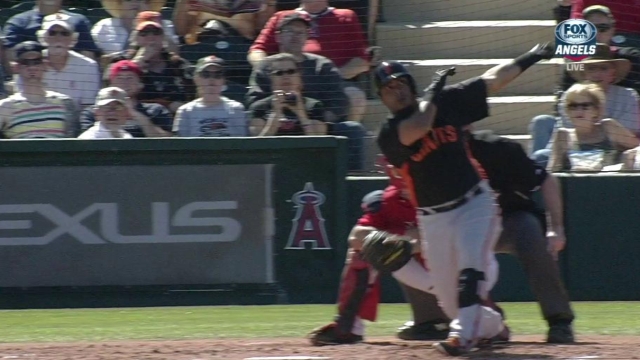 SCOTTSDALE, Ariz. -- Recurring soreness in catcher Hector Sanchez's right shoulder will force him to rest for at least a couple of days.
Sanchez was scratched from Thursday's starting lineup against Japan. Manager Bruce Bochy had hoped that Sanchez could serve as the Giants' designated hitter. But swinging a bat pained Sanchez as much as throwing did.
Due to the fluctuations in Sanchez's health, "there should be some concern at this point," Bochy said.
Guillermo Quiroz, who has played in the Majors for five teams in nine seasons, likely would become San Francisco's backup catcher if Sanchez were sidelined for a prolonged period. Bochy also cited Jackson Williams, who has spent six years in the Giants' Minor League system, as a possibility.
"We think we have some coverage there," Bochy said.
Johnny Monell, another catcher, will have to maintain his torrid hitting (.600 in Cactus League games) to keep pace with Quiroz and Williams. Monell also has logged six years as a Giants farmhand while playing all but five games below the Triple-A level.
"He's made a lot of noise here. He's done a pretty good job," Bochy acknowledged. "He'll get more catching time. We're not ruling anything out. We like his bat. It works."
Sanchez was aching before he even changed into his uniform.
"It scared me, because it felt really painful," he said. He added that the team's medical staff told him that he had no structural damage in the shoulder.
After showing promise last year by batting .280 in 74 games, the switch-hitting Sanchez has appeared in only eight of San Francisco's 19 games this spring. He owns a .211 average (4-for-19) with three RBIs.
Chris Haft is a reporter for MLB.com. This story was not subject to the approval of Major League Baseball or its clubs.