Meulens set to manage Dutch on 'home turf'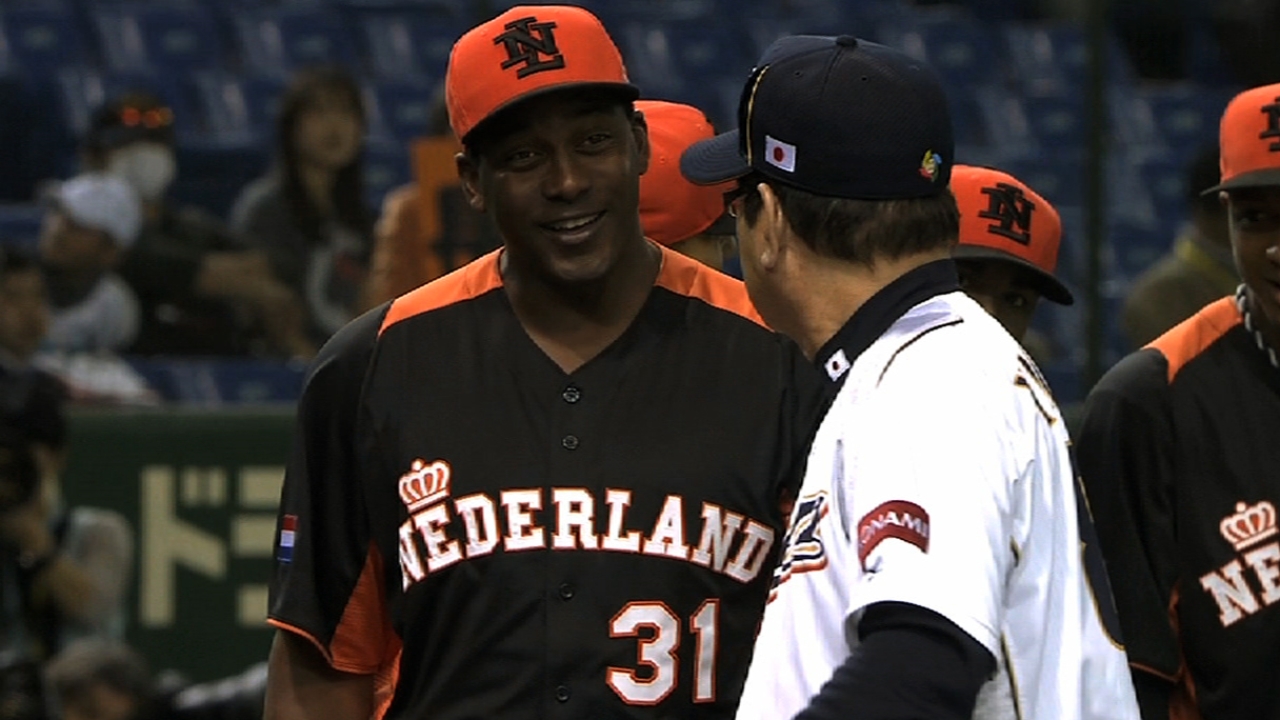 SCOTTSDALE, Ariz. -- Months ago, when Hensley Meulens was named to manage the World Baseball Classic team for the Kingdom of the Netherlands, he didn't allow himself to fantasize about returning to AT&T Park as a conquering hero of sorts.
"You don't think you're going to get there because it was so far ahead, with all the countries involved," Meulens said. "But then you see it come closer and closer and closer and you say, 'Well, this is going to be pretty cool, to get to play on our home turf, to try to win something for our country.' It's very, very special."
Meulens indeed anticipates his upcoming trip with his team to AT&T for the Classic's semifinal round. The 45-year-old has experienced plenty of thrills at the bayside ballpark as a hitting coach with the Giants, who have won two of the last three World Series. Now, he awaits more excitement.
"I'm essentially representing the Giants and the Dutch on Monday," Meulens said, referring to the date of the Netherlands' next Classic confrontation against an opponent yet to be determined. "And hopefully on Tuesday."
With the Netherlands training in the Phoenix area for the Classic semis, Meulens seized the chance to visit the Giants' Scottsdale Stadium training complex to say hello to players and fellow coaches. He also expressed gratitude, stating that the Giants organization was "very generous" to allow him to leave the club for nearly a month.
Meulens has continued to monitor San Francisco's hitters with help from fellow hitting coach Joe Lefebvre, who sends him daily text messages about the Giants' offense.
Naming Lefebvre and every other hitting coach and instructor in camp, Meulens said, "We speak the same language when we talk to the hitters."
Asked if he'd like to manage in the Major Leagues, Meulens replied, "If it happens down the road, yeah, why not? I've always been a leader-type -- wherever I've been, everything I've done. It's kind of fun doing it now. You're kind of in charge of the entire game. Now I know what 'Boch' [Giants manager Bruce Bochy] goes through every day."
But Meulens responded with a definitive "No" when asked if he would be willing to serve an apprenticeship as a Minor League manager -- mainly because he cherishes his position with the Giants.
"This is a dream job," Meulens said. "I don't want to lose it. We have great management, a great staff, a great group of players. Two of the last three years, we won. It's because of the personnel we have."
Chris Haft is a reporter for MLB.com. This story was not subject to the approval of Major League Baseball or its clubs.