Inbox: Should Belt try to beat the shift?
Beat reporter Chris Haft answers questions from Giants fans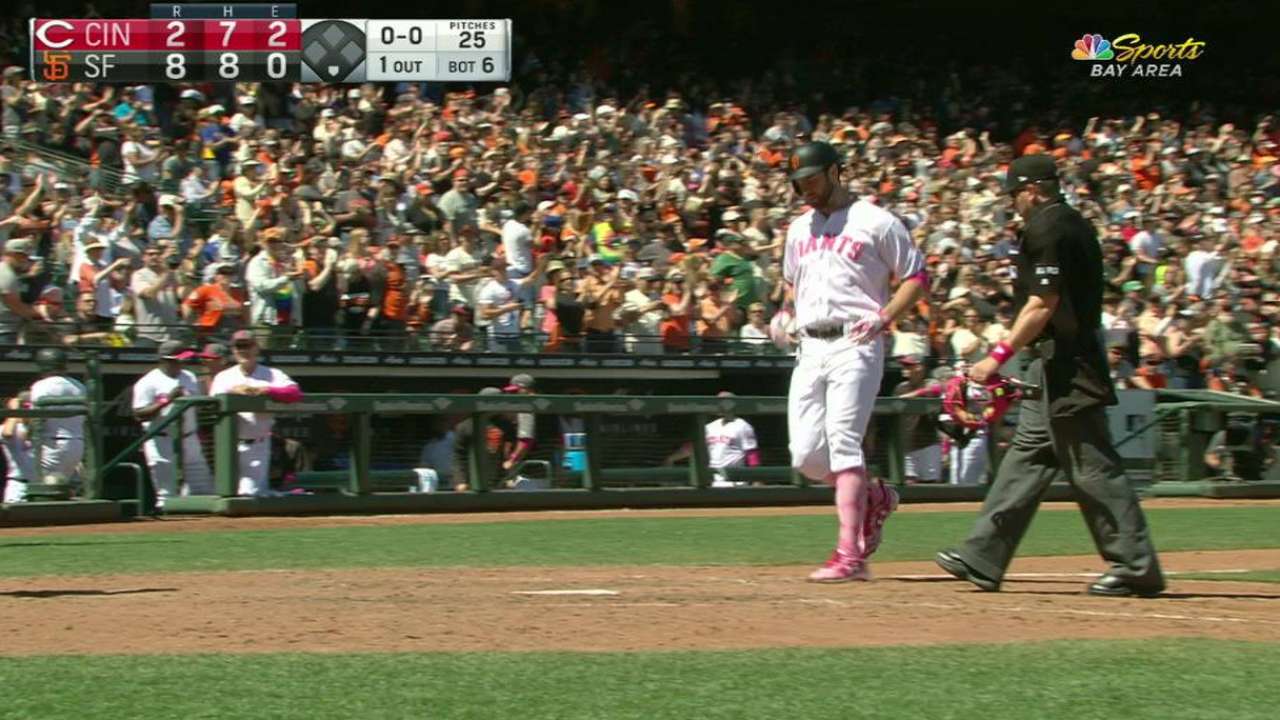 It seems opposing teams are shifting their defenses more and more these days, especially against Brandon Belt. From the stands, it seems the more teams employ the shift, the more Belt tries to thread the needle in the overcrowded right side of the infield. I understand he is a natural pull hitter with the bulk of his power available when he does so, but if he would learn to slap a grounder to left field here and there, singles would be abundant, his average would grow and the shift would probably disappear. Am I missing something?
-- Robert N., San Mateo, Calif.
Not totally. I share a similar perception. Many times I'd like to see Belt lay down a bunt toward third base. He'd come close to hitting a double. However, bear in mind that the Giants gave Belt 72.8 million reasons to believe that he's maintaining a sound offensive approach. That figure, of course, is the number of dollars that the Giants will pay him through 2021. Few players receiving that kind of positive reinforcement would dramatically alter their mindset.
Yet Belt isn't as stubborn as many observers might think. Check out his spray charts. Though he pulls most grounders, he's making a conscious effort to use the whole field. Those efforts might pay off if he remains persistent.
Does the tough start to the season affect manager Bruce Bochy or the coaching staff's job security? Have there been any rumblings in the front office about making a change?
-- Bill P., Salinas, Calif.
No, as far as I can tell. Baseball operations czar Brian Sabean, general manager Bobby Evans and Bochy remain united. They earned an almost limitless supply of credibility with those three World Series titles. I think it would require, at minimum, an awful finish -- about 88 losses or more -- and an equally dreadful start to the 2018 season before we might even begin to hear rumors about significant changes to the front-office or field staffs.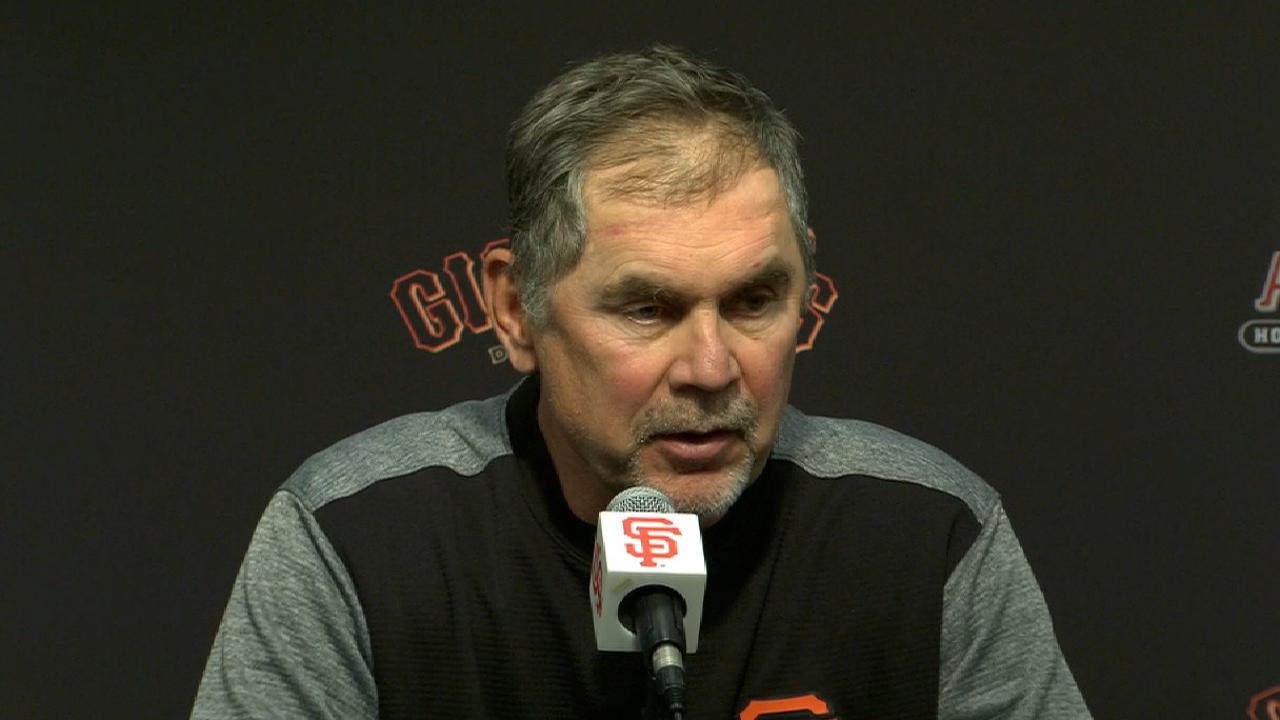 Why doesn't the Giants' front office address weaknesses beforehand? They spend $60 million for a closer [Mark Melancon] instead of spending it on outfield needs. They haven't been proactive enough to fix problems when they arise.
-- Eddie D., Maricopa, Ariz.
You probably won't want to hear the explanation I repeatedly received, publicly and privately, when the subject of upgrading left field arose. Obtaining a quality free-agent outfielder -- either a center fielder who might have prompted Denard Span to move to left or a proven left fielder, period -- would have cost extra, so to speak, since the Giants would have exceeded the competitive balance tax. I'll give the Giants credit for making some effort in this area. They reportedly were deeply involved in talks with Franklin Gutierrez before he signed with the Dodgers. Remember, free-agent hitters are reluctant to come here, because AT&T Park mutes their production.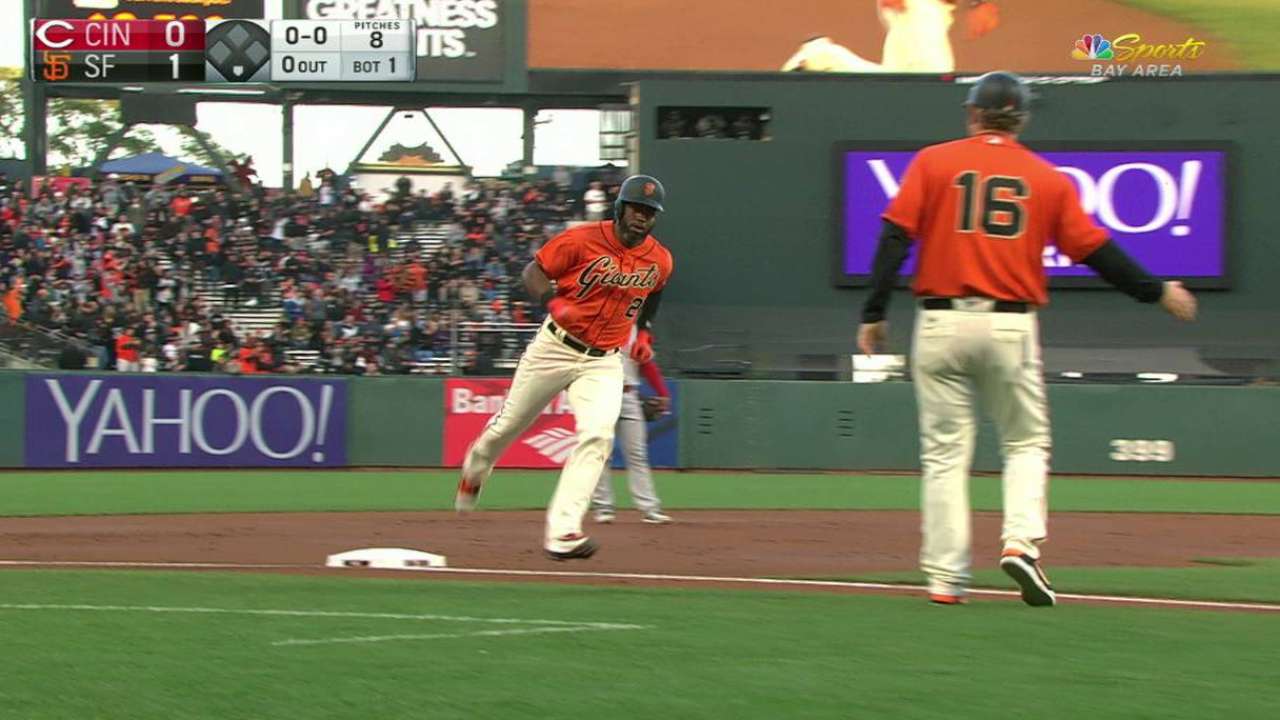 Instead of launching or rehashing the what-should-the-Giants-have-done-with-left-field debate, I'll close with something that an extremely wise (and World Series-winning) baseball lifer told me nearly 20 years ago: You either run a team to win, or you run a team to make money. Having it both ways is difficult, and this year, I think that's what the Giants tried to do.
Why have there been no talks about putting Michael Morse in left field? He did just fine in 2014 and couldn't do any worse than who has been there this year. We need his bat more frequently in the lineup.
-- Greg B., Tracy, Calif.
I have no idea what the front office's stance is regarding Morse. I will hazard this guess: Either he'll receive increased chances to play, as you urged, or the Giants will release him, as harsh as that sounds. The latter would be unfortunate, because Morse is the kind of guy who's good for a ballclub even when he's not playing.
Chris Haft has covered the Giants since 2005, and for MLB.com since 2007. Follow him on Twitter at @sfgiantsbeat and listen to his podcast. This story was not subject to the approval of Major League Baseball or its clubs.