Inbox: Posey best suited strictly at first?
Beat reporter Chris Haft answers questions from Giants fans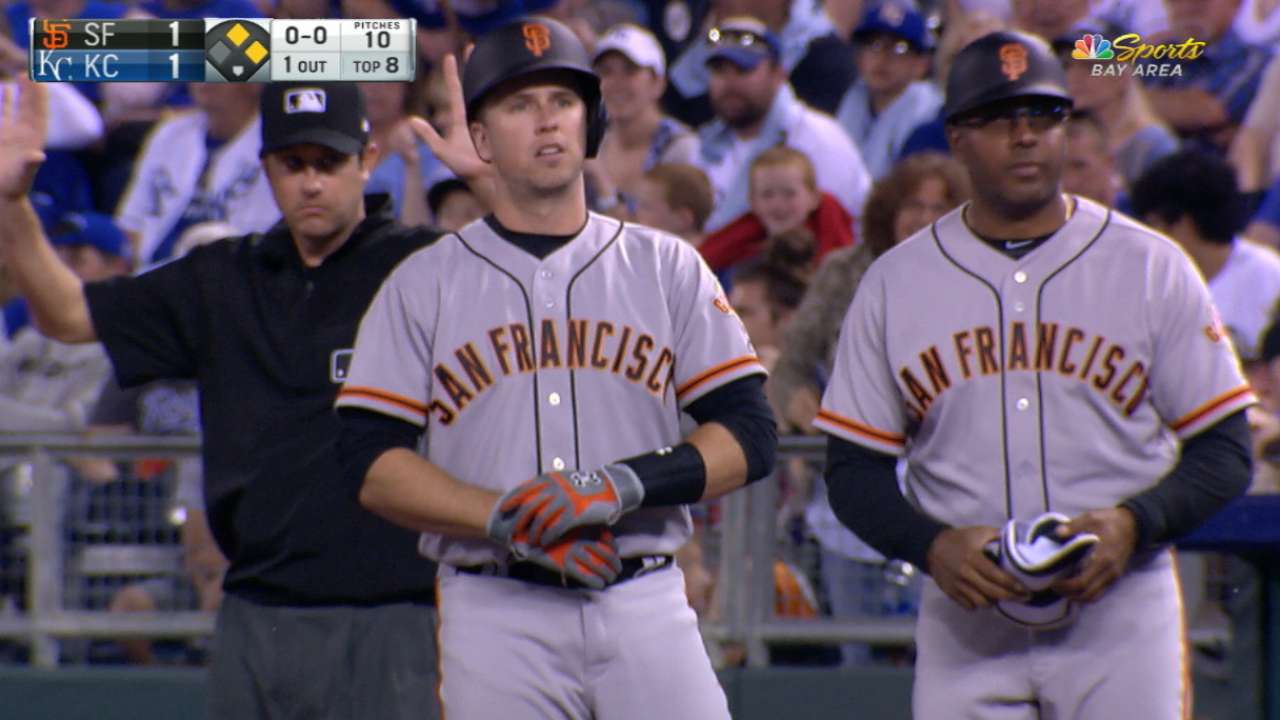 Why not play Buster Posey at first base 100 percent of the time?
-- Larry P., Los Angeles
The Giants believe that Posey is a significant enough asset defensively to keep him behind the plate. But as you're implying, I also see Posey's offensive production dwindling prematurely if he continues to catch regularly. San Francisco might not seriously reconsider its current use of Posey unless his offensive output plummets severely during an upcoming season.
What are the Giants doing about left field, short and long term? The revolving door has to stop sometime, lest it spins the team into mediocrity. The Giants long ago halted their position-player jinx; they developed Pablo Sandoval, Posey, Joe Panik, Matt Duffy and, of course, the Brandons. But Marvin Benard was the last outfielder who played effectively for more than a year, unless you count Pedro Feliz or Fred Lewis (most of us fans don't). Why is the outfield, particularly left, such a sinkhole?
-- Julie P., San Francisco
• Submit a question to the Giants Inbox
Even general manager Bobby Evans admitted that the vacuum in left field -- where the Giants have had a different Opening Day occupant each year since Barry Bonds finished his career in 2007 -- is "crazy." However, when I addressed this subject during the Winter Meetings last December, it was just as startling to learn that the 209 home runs and 969 RBIs accumulated by San Francisco's left fielders from 2008-16 were exceeded on the club only by first basemen (231 homers, 995 RBIs). Also, left fielders recorded a 37.6 WAR during this period, eclipsed only by Giants catchers (38.3) and right fielders (37.8).
That's not meant as an apology for the Giants. The last homegrown All-Star outfielder they produced was Chili Davis, who played his last game as a Giant in 1987. Chili Davis! Gosh, that was before Al Gore invented the Internet (yes, we know he never actually said that). San Francisco has high hopes for current farmhands and regarded prospects Bryan Reynolds (No. 3), its top Draft choice in 2016, as well as Steven Duggar (No. 4) and Austin Slater (No. 19), who were in big league Spring Training camp this year. If none of these outfielders thrives, the next one who does could be playing before a lot of empty seats at AT&T Park.
What is your all-time Giants team? Players must have at least four years with the franchise, and include two right- handed and two left-handed pitchers.
-- Tom B., Kelso, Scotland
Catcher: Posey
First base: Willie McCovey
Second base: Robby Thompson
Shortstop: Rich Aurilia
Third base: Matt Williams
Left field: Bonds
Center field: Willie Mays
Right field: Bobby Bonds
Pitchers: Juan Marichal, Gaylord Perry, Mike McCormick and Vida Blue
Apologies to Orlando Cepeda, Will Clark, Chris Speier, Jim Davenport, Felipe Alou and Jack Clark.
Sergio Romo a Dodger? Is the world really coming to an end? But Brian Wilson is only 35, and I'm sure he's in shape. Any chance?
-- John B., Millbrae, Calif.
Between Monday and May 17, the Giants and Dodgers play 10 games, so we'll know by then whether Romo's presence in Dodger Blue is a sign of the apocalypse. He grew up rooting for the Dodgers, so this actually isn't that far-fetched. As for Wilson, who at last report was working on a knuckleball, I'm having trouble picturing him back in a San Francisco uniform.
Chris Haft has covered the Giants since 2005, and for MLB.com since 2007. Follow him on Twitter at @sfgiantsbeat and listen to his podcast. This story was not subject to the approval of Major League Baseball or its clubs.