Hwang prepared to battle for roster spot in Spring Training
Power hitter looking to improve versatility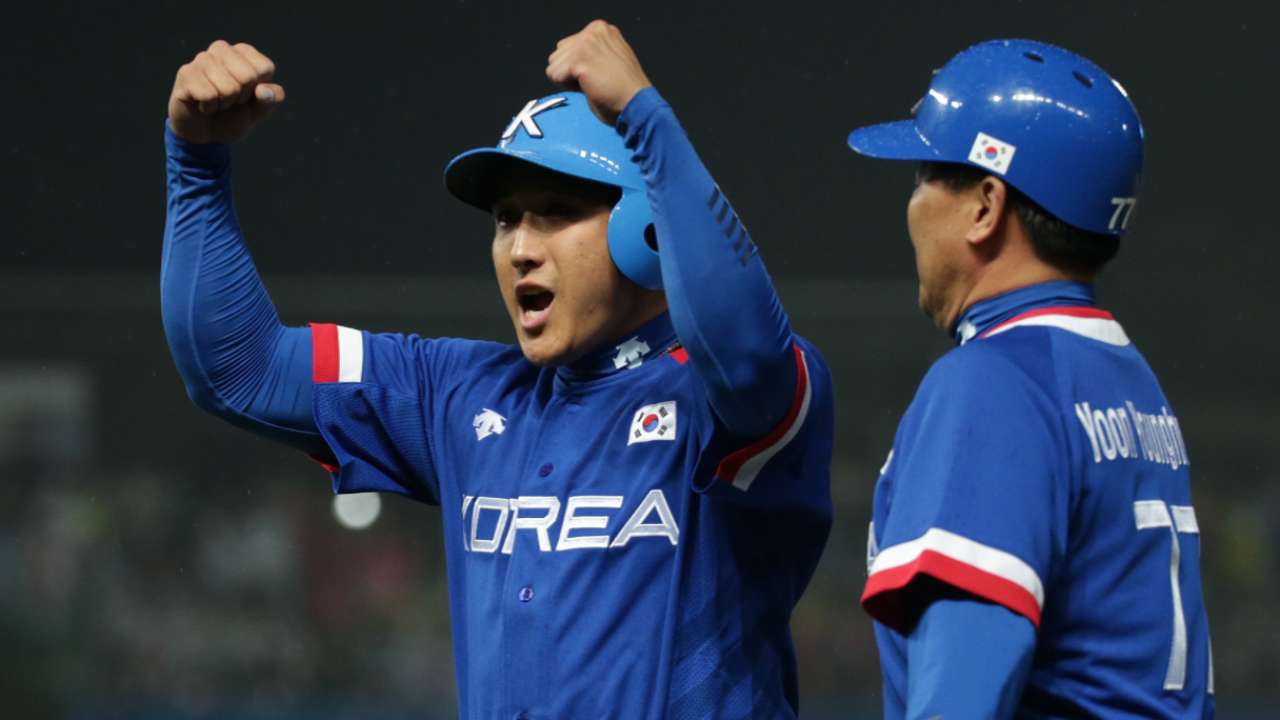 SCOTTSDALE, Ariz. -- Jae-gyun Hwang brought three different fielder's gloves to Spring Training. The Giants are probably more interested in whether he brought his bat.
Hwang, 29, hit 53 home runs over the past two seasons with the Lotte Giants of the Korea Baseball Organization, a sampling of power that San Francisco would welcome if he can make the Opening Day roster. However, accomplishing that could require Hwang to demonstrate some versatility. Hence the aforementioned trio of gloves which Hwang, primarily a third baseman, will use at first base and the outfield in an effort to enhance his value.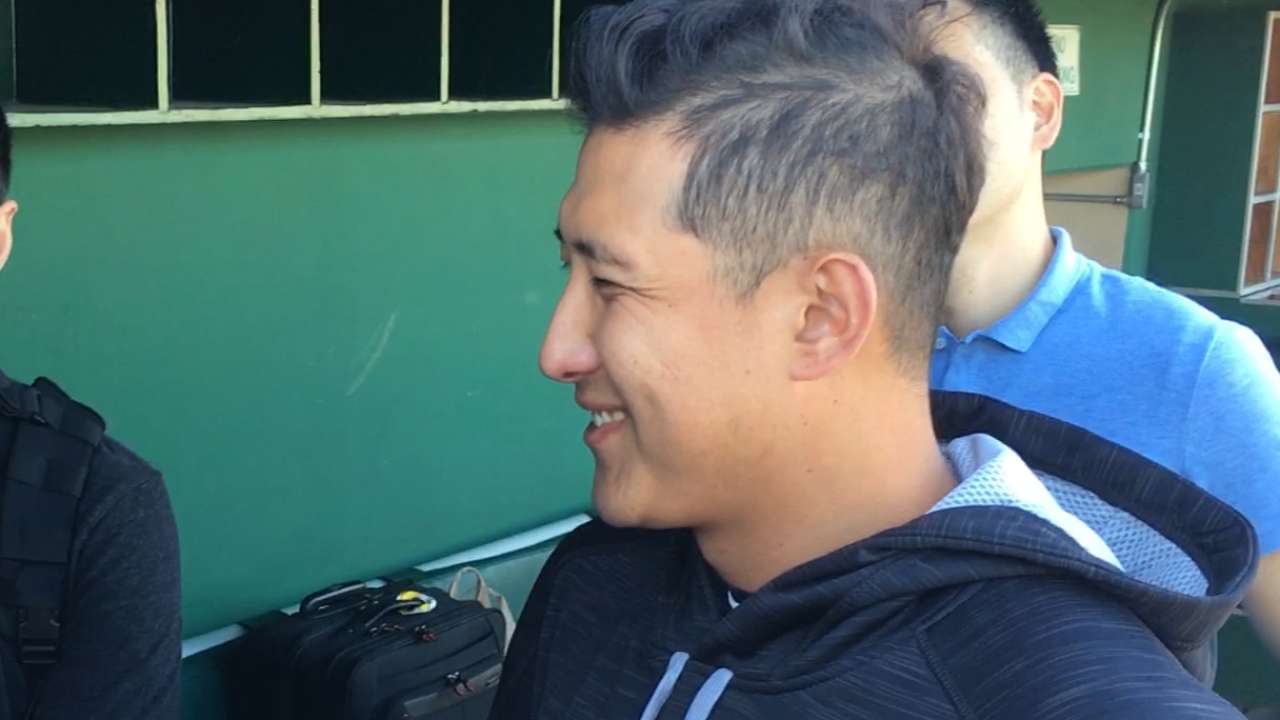 The 6-foot, 215-pound Hwang faces plenty of competition. Kelby Tomlinson, Jimmy Rollins, Gordon Beckham and Conor Gillaspie are among the other infielders seeking reserve roles. San Francisco is unlikely to keep more than two of these players coming out of Spring Training. The twin challenges of facing competition and playing new positions don't bother Hwang, a non-roster invitee to big league camp who will earn $1.5 million if he makes the season-opening squad.
"I've been basically practicing for every position there is. So I'm ready to go," Hwang said Thursday through an interpreter. "Ever since I was little, it was my dream to be able to play in the Major Leagues. When the opportunity came, I had to seize it."
The Giants and Hwang, who hit .286 in 10 professional seasons in Korea, overwhelmed each other before he agreed to terms with them late last month. Hwang's agent, Han Lee, said that "multiple" Major League scouts representing the Giants watched Hwang perform at various junctures during the 2016 season, when he hit .335 with 27 homers and 113 RBIs. Lee added that Giants scouting director John Barr and four of his assistants attended Hwang's personal showcase in November at Bradenton, Fla.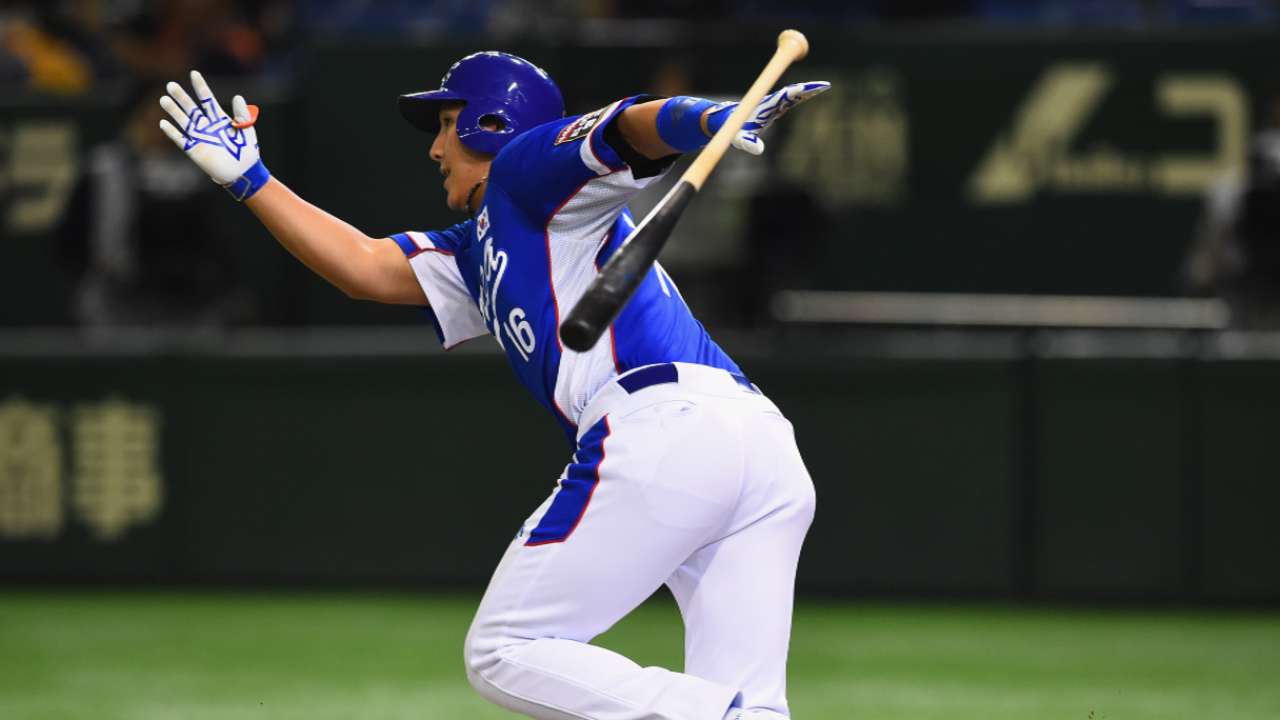 "There were a handful of other teams that showed interest, but the level of interest was never at the level the Giants showed," Lee said.
Giants manager Bruce Bochy liked what he saw of Hwang in videos.
"You can see that he has a great swing, and that swing will work," Bochy said.
Footage of Hwang dating back to 2015 or earlier depicts him engaging in colorful bat flips after smashing home runs. This is not wise behavior in the Major Leagues, as he was advised by American teammates. Ryan Sadowski, who briefly pitched for the Giants in 2009 and now serves as the Lotte club's international scout, also expressed similar sentiments to Hwang.
"Up until 2015, I was very expressive, because in Korea there's nothing against batters doing the bat flip," Hwang said. "But when I was interacting with my colleagues who had played in the Major Leagues, they told me about what kind of an effect it could have in the States with the pitchers here. So, especially in preparation for coming over to the States, I stopped that last season. All 27 home runs I hit last year I never did a single bat flip."
Chris Haft has covered the Giants since 2005, and for MLB.com since 2007. Follow him on Twitter at @sfgiantsbeat and listen to his podcast. This story was not subject to the approval of Major League Baseball or its clubs.