Smith shifts focus to claiming setup role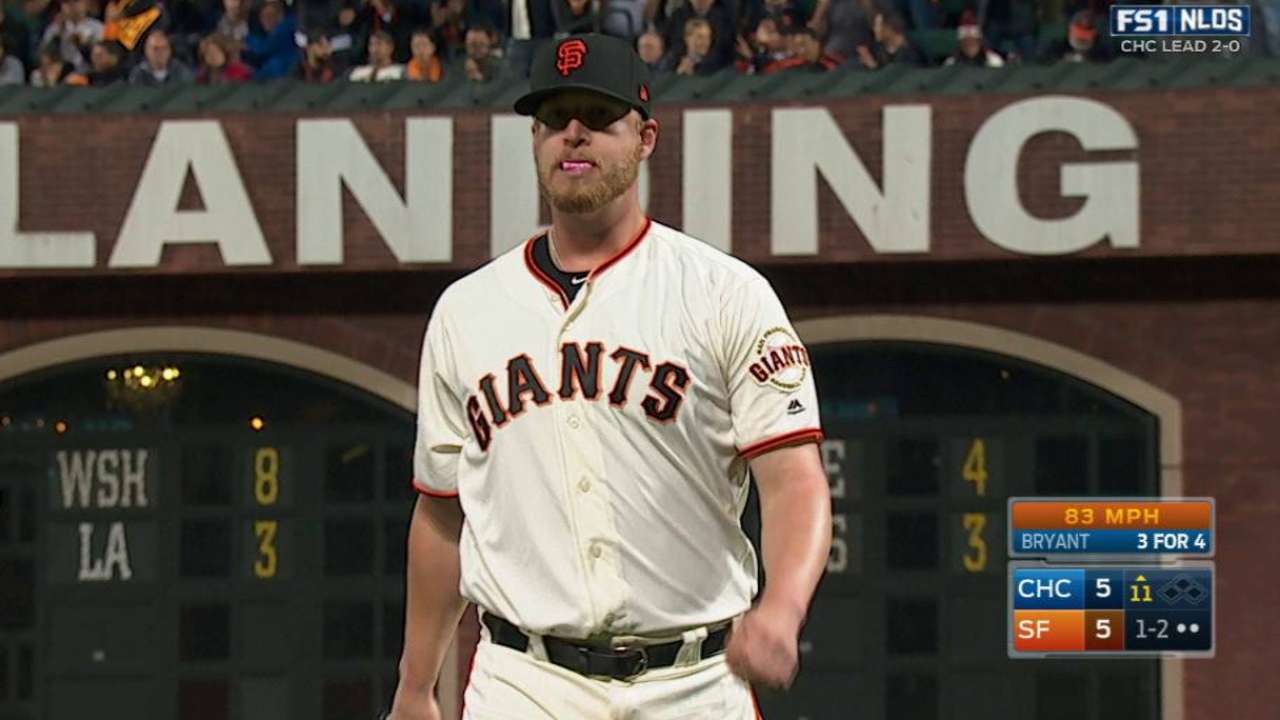 SCOTTSDALE, Ariz. -- To receive ultimate proof that the Giants have overcome the disappointment of last October's Division Series loss to the Cubs, check in with left-hander Will Smith.
Smith absorbed the decision in San Francisco's 6-5 loss in Game 4, which featured Chicago's four-run, ninth-inning surge that erased the Giants' 5-2 lead. Despite yielding pinch-hitter Willson Contreras' two-run single that tied the score, Smith was anything but the sole source of blame among the Giants, who couldn't stop the Cubs, despite using five pitchers during that inning.
Smith was noticeably disconsolate after the game, burying his head in his hands.
"I don't want to feel that feeling again. Because it wasn't fun," Smith said. "I went back to my apartment that night and basically sat there and stared out the window. I just couldn't believe what happened. It hurt. My chest hurt. My stomach hurt. You felt sick. It was an awful feeling."
• Spring Training: Information | Tickets | Schedule | Gear
Smith, a Trade Deadline acquisition from Milwaukee, said that he felt low for more than a week. Then resilience took over. He used the negative feelings as a positive force.
"It gave me extra motivation this offseason," said Smith, who pitched 13 2/3 shutout innings in his final 18 regular-season outings last season. "You're in workouts and you're on your last rep and you think you're tired and you just pop that feeling in your head."
Besides, anybody who wears No. 13, as Smith does, probably won't let a little misfortune bother him.
"I don't think it's bad luck at all," Smith said. "I actually take pride in it."
The joy of family also buoyed Smith, who became a first-time uncle in early November.
Said Smith, "That little girl shows up and you say, 'What baseball?'"
Refocused on baseball, Smith is a leading candidate to claim a setup role this spring.
"You have to like Will Smith and the way he threw last year," Giants manager Bruce Bochy said. "I'm sure he's going to be used late in the ballgame."
• Speculating on the composition of the Opening Day roster, an annual rite of spring, became more intriguing Wednesday as Bochy discussed a few possibilities.
Asked if keeping three catchers could be an option, Bochy replied, "I'm not ruling anything out," though he added that the chances of that happening were less than 50 percent.
Catcher No. 3 behind Buster Posey and Nick Hundley would be Trevor Brown, last year's backup. Bochy said that Brown, a former infielder, might be tested at second base, or even first or third this spring to give him an opportunity to demonstrate his versatility.
A three-catcher contingent would be an impossibility if the Giants open the season with a 13-man pitching staff. Bochy wouldn't say whether he's leaning toward 12 or 13 pitchers, though he mentioned that he valued the freedom of adding another position player that a 12-man staff would afford.
Chris Haft has covered the Giants since 2005, and for MLB.com since 2007. Follow him on Twitter at @sfgiantsbeat and listen to his podcast. This story was not subject to the approval of Major League Baseball or its clubs.