Cain confident injuries are behind him
Righty still big part of revamped rotation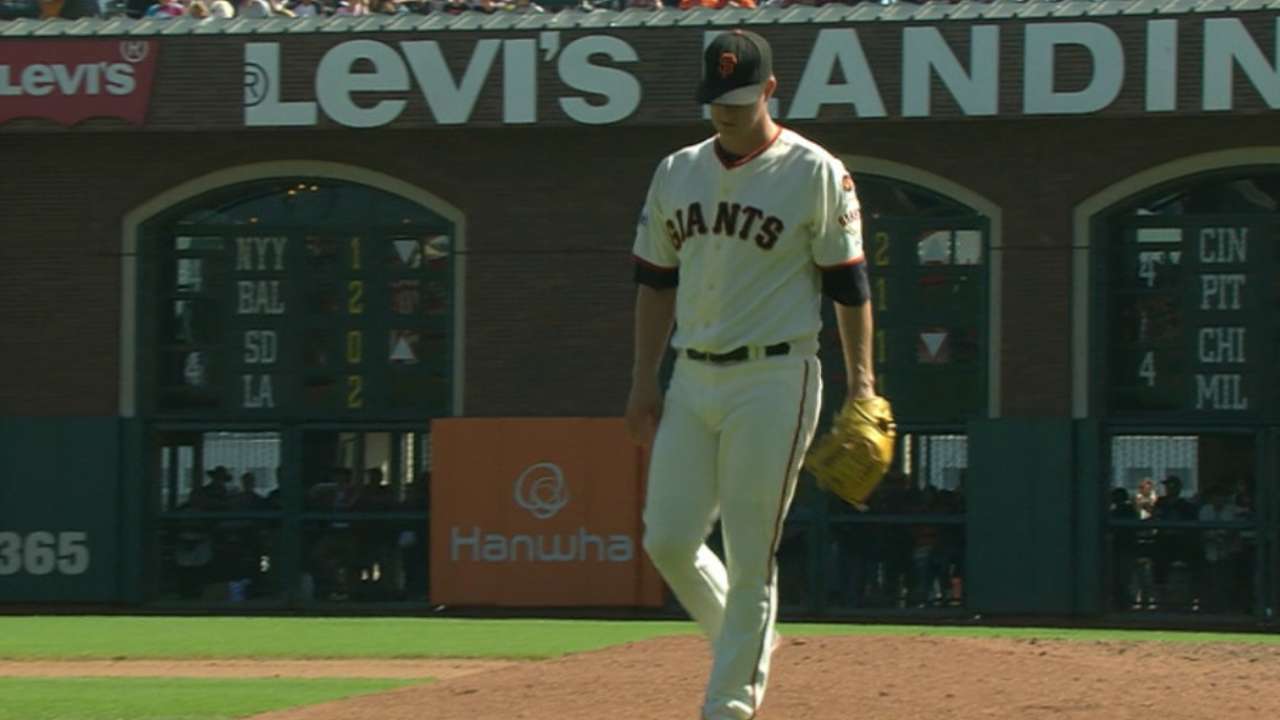 SAN FRANCISCO -- A year ago, Matt Cain was beaming with optimism as he enjoyed the last moments of the offseason, wrapping up the top amateur performance at the Pebble Beach National Pro-Am golf tournament. After a rough 2014 season that ended with elbow surgery, he was feeling good and raring to go to Arizona to get his career back on track, a wayward ace fully focused on the task ahead.
"I wanted to be excited about it, and I was excited about it," Cain said Friday during a media session at AT&T Park. "I thought I was physically where I needed to be, but my body told me to take a little step back right before the season started. That was kind of the path we had to take, and it was a little bit of a roller coaster from there."
Indeed, the 2015 baseball season went off target from the tee box and never found the short grass. Cain had been a model of consistency and dependability for so long, but his 10th full season in the big leagues wound up being a rougher go than the previous year's nadir.
This weekend, Cain is attending the Giants' annual FanFest, an appearance superseding another chance to play in golf heaven. The optimism is back and the confidence is there again that he will return to the form that made him a three-time All-Star and three-time World Series champion.
"I know what I'm capable of doing," Cain said. "I know that everything can work out the way it needs to and I can pitch deep into games and help the guys like I'm supposed to."
Last year, between missing 94 games on the disabled list and struggling to work through differences in his arm following the 2014 surgery to remove bone spurs, Cain had his worst season since arriving in the Majors at age 20 in 2005. Owner of a 3.27 ERA over the first eight years of his career, Cain posted a 5.79 ERA (11th highest in MLB/10+ GS) in 11 starts and two relief appearances in 2015, setting career highs in hits per nine innings (10.5), HRs/9 (1.8) and WHIP (1.500).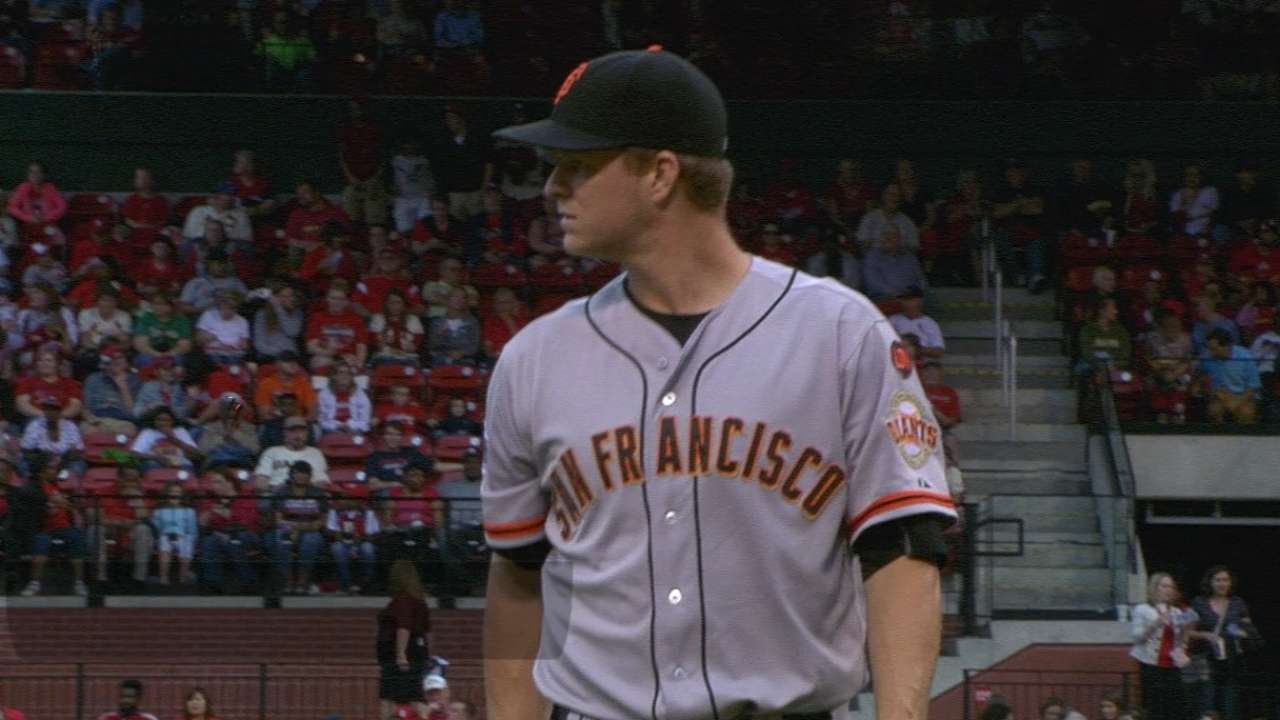 Catcher Buster Posey, who shared the experience at Pebble Beach and Cain's optimism before witnessing the longtime ace's struggles, says tapping into his decorated past as the Giants' ace is all Cain really has to do.
"I think you can forget because Matt's only two years older than me, but he's already got 10 years in the big leagues," Posey said. "He's been through a lot in his career even though he's only 31. I think it's important, and I know it can be frustrating with injuries, for him to realize how much he's accomplished and contributed to the organization, and just go out and have fun and give it everything you've got."
That is the expectation for Cain heading into Spring Training. His status has changed in a rotation that is led by lefty Madison Bumgarner, added free agents Johnny Cueto and Jeff Samardzija this offseason, and includes veteran Jake Peavy. Cain, the longtime staff ace, is penciled in as the fifth starter.
"It's funny how the game goes," Giants pitching coach Dave Righetti said. "This guy was our mainstay for years, and in my mind that doesn't change because a guy gets a little bit banged up. You've got to go back out there and deal with, 'OK, I'm a winner again and I can do it.' But you've got to go out and do it."
That was the difficult part for Cain a year ago. Trying to find a consistent rhythm with the added extension his surgery created was an exercise in frustration.
"It's very tough to do it in front of a full house every night and for a team that's winning, and to feel like you're not contributing as much as you need to," Cain said. "But it just happened to be that was the time I was going through it, but you have to put it past you and use it as a helpful tool and not a hurting tool."
It certainly didn't hurt Cain that he finished 2015 on a high note. He pitched five scoreless innings in the season finale, using just 65 pitches in what was by far his best outing of the season.
"For him to have a last start like that going into the offseason had to do so much for his psyche, his confidence," Giants manager Bruce Bochy said. "I like where he's at right now."
So does Righetti, who says he's "looking for great things" out of Cain again. That, in turn, could only help the Giants' cause if their revamped rotation has an anchor like the Matt Cain they'd come to know for so long.
"He's a big key, obviously. That's a no-brainer," Righetti said.
John Schlegel is a national reporter for MLB.com. You can follow him on Twitter @JohnSchlegelMLB. This story was not subject to the approval of Major League Baseball or its clubs.