Did you know: Bumgarner makes history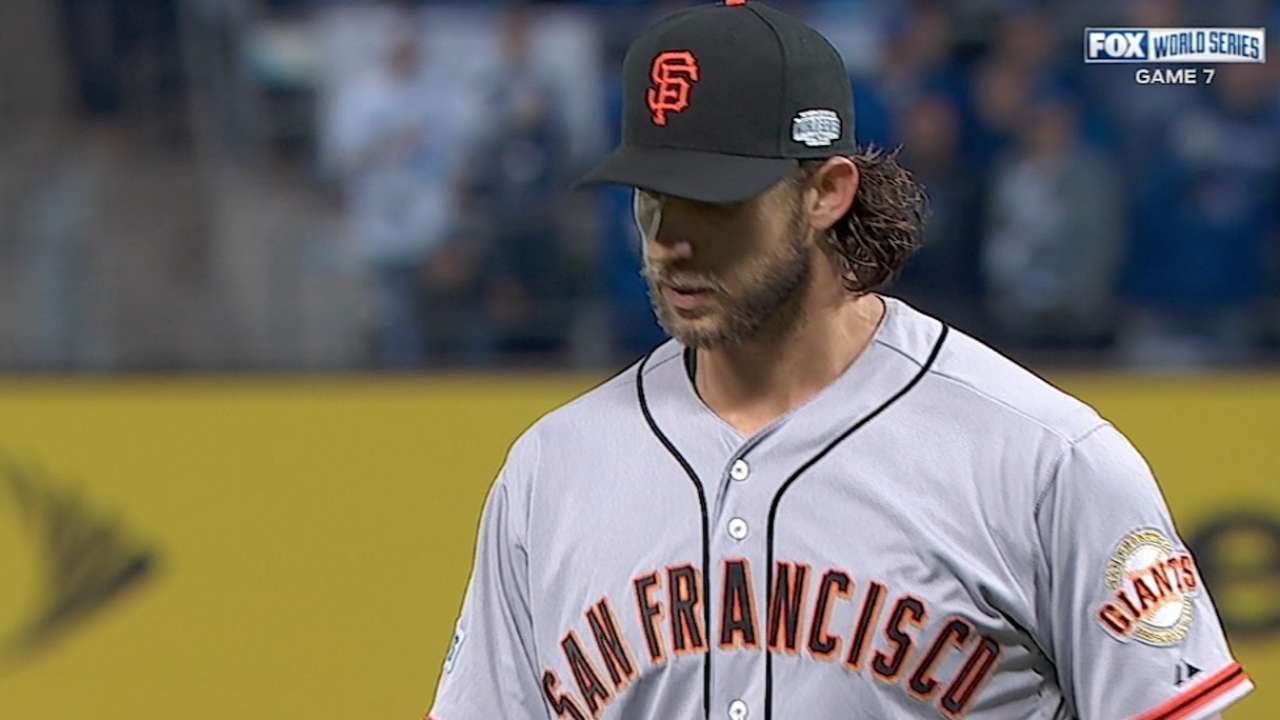 Madison Bumgarner completed his dominant 2014 postseason in historic fashion on Wednesday night, locking down a scoreless five-inning save to seal the Giants' third World Series title in five seasons.
From his shutout in the National League Wild Card Game to his overpowering effort out of the bullpen in Game 7 of the World Series -- and everywhere in between -- Bumgarner placed his name all over the postseason record books.
Here's a look at some of Bumgarner's most staggering numbers and accomplishments during the Giants' World Series run.
• Bumgarner's remarkable Game 7 performance made him the first pitcher to throw at least four scoreless innings in a World Series Game 7 on two days' rest since Sandy Koufax's notable shutout for the Dodgers in 1965.
• Bumgarner's five scoreless innings on Wednesday also tied the World Series record for most shutout innings in relief in a Game 7. Like Bumgarner, the Yankees' Joe Page also took over in the fifth inning and tossed five scoreless frames to earn the win and finish out a 5-2 Yankees victory over the Dodgers in 1947.
• The five innings also exceeded the total thrown by the Giants' Game 6 and 7 starters combined. Jake Peavy lasted just 1 1/3 innings in Game 6 and Tim Hudson was lifted after 1 2/3 innings in Game 7.
• Bumgarner's 0.25 ERA in his five World Series appearances is the lowest all-time among pitchers with at least 20 innings. His 0.43 ERA for this World Series alone was the lowest in a single World Series (minimum 15 innings) since Koufax posted a 0.38 ERA in the 1965 World Series.
• Bumgarner, at just 25 years old, already has four World Series wins. No other player has ever notched more than three World Series victories before the age of 26.
• Bumgarner's five-inning save in Game 7 was the longest save in World Series history. Three players -- Ron Taylor of the 1964 Cardinals, Jim Coates of the '61 Yankees and Page of the '47 Yankees -- had four-inning saves, though none came in Game 7. Prior to Bumgarner, the longest in a winner-take-all game would have been Bob Kuzava's 2 2/3-inning save in 1957, though the save stat did not become official until 1969.
• With the save, Bumgarner became the first pitcher on record to earn at least two wins, throw a shutout and earn a save in a single World Series.
• In Game 5 of the World Series, Bumgarner became the first pitcher in World Series history to pitch a shutout with no walks and at least eight strikeouts.
• Bumgarner pitched 52 2/3 total innings this postseason, easily surpassing Curt Schilling's previous single-postseason record of 48 1/3 innings, set in 2001.
• As for this postseason alone, Bumgarner's 52 2/3 innings were more than double the total thrown by any other pitcher. The Royals' Yordano Ventura threw 25 1/3 innings.
• Including Salvador Perez's series-ending foulout, the Royals had just nine plate appearances with runners in scoring position against Bumgarner in the World Series. They went 0-for-8 with five strikeouts and a walk in those situations.
• Bumgarner allowed only nine hits over 21 innings in the World Series, the fewest in World Series history by any pitcher with at least 20 innings of work.
• The Giants' ace also tallied 17 strikeouts, while walking just one Royals hitter. Only Christy Mathewson of the New York Giants in 1905 struck out more hitters (18) while walking no more than one batter.
Paul Casella is a reporter for MLB.com. Follow him on Twitter @paul_casella. This story was not subject to the approval of Major League Baseball or its clubs.